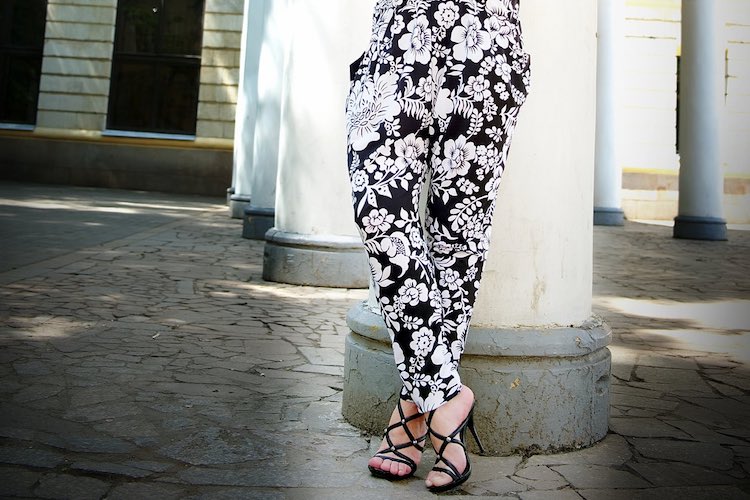 August 30, 2022 |
8 shares
In a way, jumpsuits are incredibly easy to accessorise. The bold silhouette works best when you keep jewellery to a minimum and let the outfit speak for itself.
But when it comes picking your shoes, it's a different story. Because jumpsuits are all about the silhouette, they rely on perfect posture to look their best. That means that most jumpsuits just won't work with flat shoes.
The best shoes to wear with jumpsuits tend to be high heels – and the higher, the better. But the relentless popularity of jumpsuits has led to an influx of more casual, summery styles which have been designed to work with a variety of different shoes.
We've done the work for you to create the ultimate cheat sheet to picking shoes to wear with jumpsuits. Read on and start making the most of the most straightforward item in your wardrobe.
When you're wearing a jumpsuit… to work
SHOP THE LOOK: Tailored Jumpsuits | Michael Kors Heels | Blazers
Work-friendly jumpsuits tend to fall into two categories – super-tailored, or super-loose. The best tailored jumpsuits can pass for suits at a distance, so you should choose your footwear accordingly.
Mid-height court shoes are the obvious option, although pointed stilettos will also look great if you don't have a lot of walking to do. For loose, culotte-style jumpsuits, you can get away with a lower heel or flatform shoe, just as long as it is hidden underneath a long and swishy hem.
When you're wearing a jumpsuit… to a summer wedding
SHOP THE LOOK: Bardot Jumpsuits | Steve Madden Sandals | Ralph Lauren Sunglasses
If you want to stand out from the sea of floral dresses, wear a jumpsuit to your next summer wedding. There is a huge range of feminine jumpsuits on the High Street at the moment, with on-trend features such as ruffles, Bardot necklines, and pastel hues.
As a general rule, the busier the jumpsuit, the plainer the shoe - heeled sandals and a pedicure are all you need to set off this outfit. Either match the colour of your heels to your skin tone, or to the bottom half of the jumpsuit itself, and keep the rest of the look simple.
When you're wearing a jumpsuit… on a night out
SHOP THE LOOK: Glamorous Jumpsuits | High Heels | Skagen Watches
When you want to turn the glamour up to 11, a jumpsuit and fierce heels is the way to go. Treat the jumpsuit as a canvas that you use to show off your favourite caged sandals or designer shoes.
A plain black jumpsuit is elegant and versatile, but worn with strappy ghillie shoes or metallic platforms, you can bring your outfit to the next level.
When you're wearing a jumpsuit… to a BBQ
SHOP THE LOOK: Casual Jumpsuits | Vans Trainers | Belts
Finally – an excuse to wear flats with a jumpsuit. Casual jumpsuits tend to be much more forgiving than the formal or office-friendly versions.
Dress it down by adding white t-shirt underneath a strappy jumpsuit, or a statement belt around the waist. Then roll up the hems and wear with your favourite sneakers or sandals.
When you're wearing a jumpsuit… to a festival
SHOP THE LOOK: Denim Jumpsuits | Flatform Trainers | Hair Accessories
As versatile as jumpsuits are, they're not exactly festival-ready. Wear them with wellies, and you look like a quirky farmer. Wear them with sandals, and you'll end the day with muddy hems. And then there's the whole portaloo situation...
If you absolutely have to wear your jumpsuit to a festival, pair it with Creepers or flatform sneakers, so you're putting a bit of space between the mud and your clothing. And try to save this look for the sunniest possible day.
Our Top Tips On Choosing The Best Shoes To Wear With Jumpsuits
If you're wearing a tailored jumpsuit to work, opt for a mid-heel court shoe and complete the look with an oversized blazer.


On casual days, embrace your favourite flats by wearing your jumpsuit with your favourite trainers or canvas plimsolls.


For summer events such as an outdoor wedding, team your jumpsuit with heeled sandals that complement either your skin colour or the base colour of the jumpsuit.


When you want to up the glamour, take your outfit to the next level by wearing your jumpsuit with caged sandals or ghillie heels for a killer look.