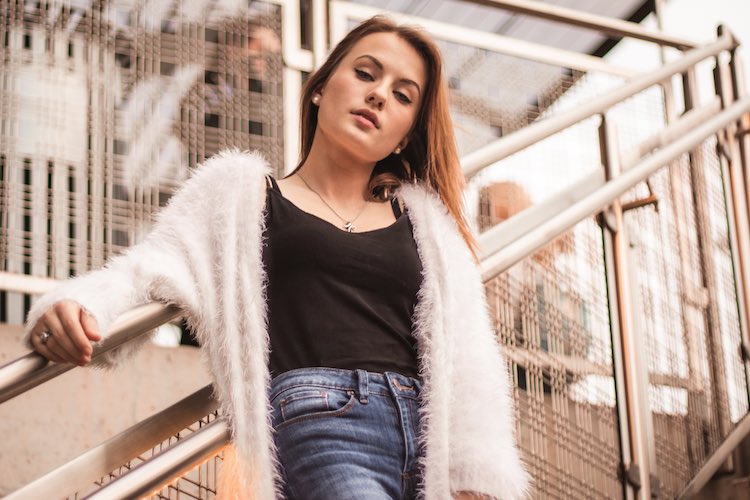 October 13, 2020 |
7 shares
Bodysuits are one of the most contradictory items in fashion.
On the one hand, they're incredibly versatile and act as the perfect base for an infinite number of outfits. On the other hand, they are totally impractical – at least from a 'bathroom emergency' point of view.
But if you can get past the buttoned crotch, a bodysuit could be the hardest working item in your wardrobe.
Over the past few years, style icons such as Kendall Jenner, Jennifer Lawrence, Gigi Hadid, and Rihanna have brought the bodysuit back into the spotlight, for the first time since the Lycra-mad 80s.
But while 1980s body suits were high rise and neon, 21st-century bodysuits come in dark and neutral colours that are surprisingly chic.
Read on to find out how to wear a bodysuit anytime, anywhere...
How to wear a bodysuit... with jeans
SHOP THE LOOK: Bodysuits | High Waisted Jeans | Ghillie Heels
This is a trend which has been championed by the current crop of supermodels. The likes of Kendall and Gigi love to pair a scoop-neck body with high-waisted jeans and ghillie heels, to create a figure-hugging silhouette.
If you don't have the body of a supermodel, contrast the clingy fabric of your bodysuit with baggy mom jeans, for a retro and casual look.
How to wear a bodysuit... to a formal event
SHOP THE LOOK: Ted Baker Trousers | Blouses | Heeled Courts
A plain coloured bodysuit is the perfect base layer for a chiffon dress or a see-through blouse, and it has the added benefit of protecting your modesty while building a foundation for your outfit.
The key thing is to stick with a neutral block colour – any patterns or embellishments run the risk of clashing with the rest of the outfit.
How to wear a bodysuit... to the office
SHOP THE LOOK: Long Sleeve Bodysuits | Pencil Skirts | Mint Velvet Knitwear
A long-sleeved body looks great underneath a trouser suit or paired with a pencil skirt – and it's easy to add a few extra layers (a cardigan, a blazer, a blouse) if it gets cold.
How to wear a bodysuit... on a night out
SHOP THE LOOK: Bardot Bodysuits | Skinny Jeans | Carvela Heeled Boots
The recent popularity of bodysuits means that there are a number of variations on the classic black style.
If you're out to impress, choose a corset-front bodysuit or a Bardot body in a rich jewel tone, and make it the focus of your outfit. A pair of jeans or a high-waisted skirt is all you need to complete the look.
How to wear a bodysuit... in winter
SHOP THE LOOK: Slim Fit Jeans | Parka Jackets | Steve Madden Boots
Winter dressing is all about layering, and the humble bodysuit was made for layering. While thermal bodysuits do exist, there are plenty of other insulating fabrics which work just as well.
Choose a breathable, cotton-mix body if you plan on adding a few other layers over the top. Or opt for a retro velvet bodysuit, which will keep you cosy and chic.
How to wear a bodysuit... in summer
SHOP THE LOOK: Daniel Wellington Watch | Denim Shorts | Flip Flops
In the summertime, a bodysuit is an incredibly versatile way to change up your look depending on the weather.
You could start the day in a spaghetti-strapped body and a wrap skirt, before changing into denim shorts and flip-flops for a day at the park, then throwing on a mini-skirt or palazzo pants for the evening.
Our Top Tips On How To Wear Bodysuits
The easiest way to wear a bodysuit is with jeans. Opt for a high-waisted style and complete the look with ghillie heels.


If you're wearing a bodysuit to a formal event, layer under a dress or blouse and make sure you pick complementary colours.


Bodysuits can easily be integrated into your 9 to 5 wardrobe. Wear with a suit or pencil skirt for an office-friendly outfit and layer with knitwear or a blazer.


Look to Bardot bodysuits when you want to impress on a night out and pair with skinny jeans and heels.


During winter, use bodysuits to layer under your tops for additional warmth. Stick to muted colours and opt for cotton mixes where possible.


Strip the layers off in summer and keep your outfit simple by pairing a white bodysuit with blue denim shorts. A pair of flip flops is all you need to finish the look.