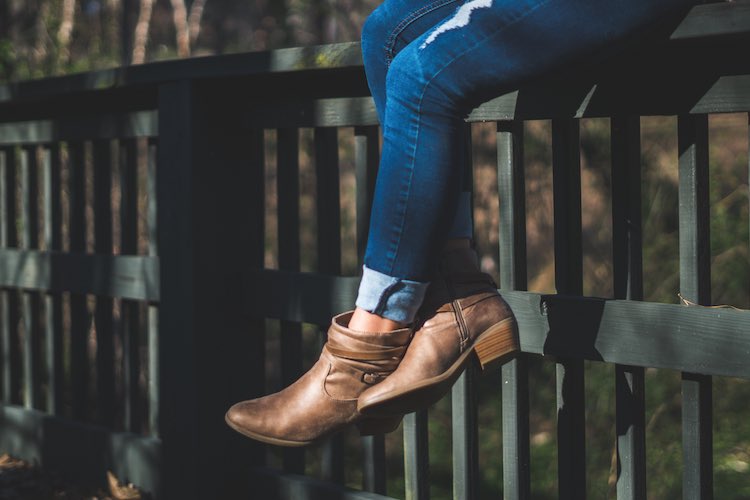 November 1, 2022 |
9 shares
Ankle boots are easily one of the most versatile styles of footwear. Smart enough to wear to work while also coming in a huge range of heel heights and colours to take you from day to play, they're a guaranteed winner for all seasons.
To show you just how many options they give you, we've put together this stylist guide on how to wear ankle boots with just about everything in your wardrobe. Read on to discover the best ankle boot outfit ideas or use the quick links below to jump straight into each section…
How To Wear Ankle Boots With A Skirt
It's hard to go wrong when you wear ankle boots with skirts. Black heeled ankle boots look great teamed up with midi length skirts and will instantly inject some glamour into your outfits if you opt for a patent finish.
Alternatively, look to ankle boots in vibrant purple suede or burgundy worn with a black and grey ensemble to elevate your workwear to new heights.
How To Wear Ankle Boots With Jeans
Both skinny and straight leg jeans look great paired with block heel or flat ankle boots, but when you really want to impress you should always opt for a stiletto heel. The outfit above shows just how easy the off-duty supermodel look is to pull off if you pick the right elements.
High-waisted jeans worn with a bodysuit creates the perfect silhouette, while stiletto ankle boots help to elongate the legs to streamline the silhouette further.
How To Wear Ankle Boots With A Dress
Ankle boots generally look best with dresses in a mini or midi length, with a pair of tights offering some extra warmth during the chillier months. We love the simplicity of the outfit above, showing how effective kitten heel ankle boots can be when paired with the right dress.
For an edgier look, opt for block heel styles with a pointed toe and team up with a slip dress or pinafore dress. Layer with a jumper or longline cardigan when the temperature drops.
How To Wear Ankle Boots With Trousers
The golden rule when you wear ankle boots with trousers is that if the hems aren't skinny enough to be tucked in, they should be rolled up so they don't sit over the top of the boots.
The outfit aboves show just how versatile black ankle boots can be with different styles of trousers, keeping your style game strong whatever the weather.
How To Wear Ankle Boots With Leggings
Give this classic combo a stylish refresh by choosing Chelsea boots to wear with leggings when you want to inject some attitude into your outfits. The ruggedness of the boots works perfectly with oversized knitwear, giving the impression you've been dipping into the boyfriend's wardrobe.
If you want to add some variety to your everyday looks, grey ankle boots are a great alternative to black and will go with just about every colour of leggings.
How To Wear Ankle Boots To Work
Keep the rain at bay on your commute during the colder months by investing in a pair of leather ankle boots. They're an easy switch from your favourite court shoes and will still look great with jeans, skirts, dresses and trousers.
Avoid rounded toe styles for smarter occasions and when in doubt, opt for block heels over flat ankle boots. They also make a great option for the summer months when paired with trousers and skirts in neutral tones such as beige or cream.
How To Wear Flat Ankle Boots
Often the casual footwear of choice for stylish celebs, flat ankle boots offer a great alternative to trainers for the sartorially savvy. Try wearing yours with straight leg jeans and a military inspired jacket, or mix it up with metallic skirts and turtleneck tops.
If you want to wear flat ankle boots with jeans but still need a couple of extra inches for height, Chelsea boots tend to have a higher heel and may be your best option.
Our Top Tips On How To Wear Ankle Boots
Heeled black ankle boots with go with just about everything in your wardrobe and are a great wet weather alternative to court shoes.


Opt for pointed toe ankle boots over a rounded toe for smarter occasions and pick a stiletto heel when you want to impress.


Flat ankle boots look great teamed up with leggings and straight leg jeans on off-duty days, making them the perfect alternative to trainers and plimsolls.


If the hems of your jeans or trousers aren't skinny enough to be tucked in, always roll them up so they sit above the top of your ankle boots.