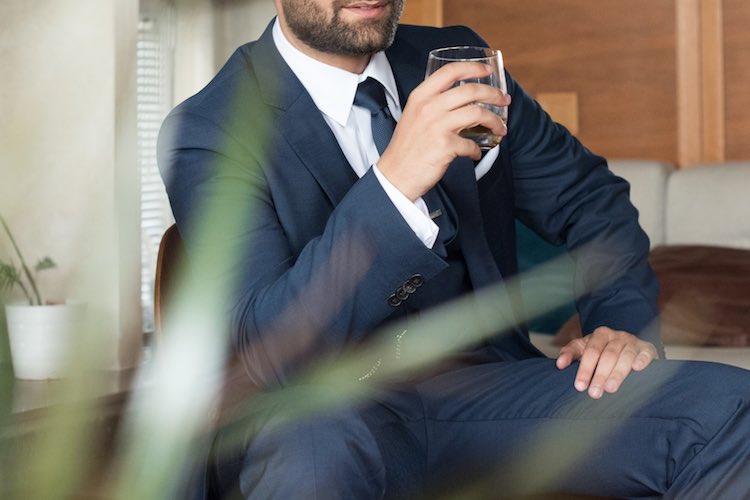 January 26, 2020 |
8 shares
Over the last 10 years men up and down the country have been switching corporate black for navy suits. Gone are the days of the loose fitting pinstripe styles, it's now all about tailored slim-fit cuts in stylish shades of blue.
Navy is an incredibly versatile colour, looking great with on-trend tan brown accessories as well as just as good with pastel shades of yellow, pink, blue and red. Whether you're looking for wedding outfit ideas or want to mix up your 9 to 5 wardrobe, read on for our complete guide on how to style men's navy suits…
How To Wear Navy Suits With Shoes
The blue navy suit with tan shoes and accessories is a tried and tested combination that's not going anywhere any time soon. Darker shades of navy also look great with dark brown shoes as a stylish alternative to all black outfits and just need a long sleeve shirt to complete the ensemble.
Look to brown brogues and Oxford shoes to wear with your navy blue suit for sartorial success during the colder months, then ditch the socks and break out the brown loafers when summer comes around.
How To Wear Navy Suits With Trainers
Navy suits are easy to dress down with the addition of a fresh pair of white trainers. Try to stick to all white trainers with minimal detailing and complete the look with a matching white Oxford shirt.
Alternatively, pair your navy suit with a dark blue crew neck t-shirt or jumper for more casual outfits like the one showcased above. Just make sure you keep accessories to a minimum so the suit remains the star of the show.
How To Wear Navy Suits With Boots
As a stylish cold weather alternative to slip-on loafers, try wearing your navy suit with brown Chelsea boots and you won't be disappointed. The boots are great for injecting some attitude into your outfit, while also combining practicality with style.
We love the navy suit with pastel pink shirt outfit idea above, showing just how well dark blue complements lighter pastel shades for much needed colour during the dreary seasons.
How To Wear Navy Suits To A Wedding
Elevate your wedding outfits to new heights by pairing navy suits with contrasting waistcoats. It's an incredibly easy look to pull off and is perfect for weddings, as it doesn't look as formal as a three-piece suit with a matching waistcoat.
Complete the outfit with a dark blue or burgundy tie and your smartest pair of brown leather brogues or Oxford shoes. Checkout the additional navy suit outfit ideas below for more inspiration on getting this look right whatever the occasion.
How To Wear Navy Suits To Work
When you're buying a navy suit for work, always opt for the slimmest cut you can get away with - generally it'll give a more tailored, smarter look. Then opt for tan/brown shoes such as monk straps, Oxfords or brogues and make sure the trouser hem just meets the top of the ankle.
For the top half, you can't go wrong with white shirts, as they're less likely to clash with your ties. Blue, red and brown ties tend to work best and will also complement other shirt colours including grey, pastel red and light blue.
How To Wear Navy Suits With Braces
Braces have had a huge comeback in recent years and they're now available in more colours than ever. They'll instantly smarten up your outfit, while also adding interest during the warmer months when you tend to have your suit jacket off.
Always opt for belt-loop braces when wearing with a navy suit rather than the clip-on styles and opt for a contrasting colour to your shirt for maximum effect. Dark blue braces look great worn with a navy suit and white shirt, while red braces work best with light blue shirts. Additional outfits on Pinterest should give you all the inspiration you need for wearing braces with your suit for work, play and weddings.
Our Top Tips On How To Wear Navy Suits
Tan or brown shoes generally are the best colour to wear with navy suits and look great when worn with matching brown belts and accessories.


If you plan on wearing trainers with your blue suit, always opt for box-fresh white trainers and mix up your outfits by pairing with a navy top.


Stay stylish without compromising on comfort during the winter months by wearing your navy blue suit with brown leather Chelsea boots.


Navy suits are perfect for wearing to a wedding whatever the season. Stand out from the crowd by pairing with a contrasting waistcoat and complete the look with smart brown shoes.


Try swapping your belt for braces when you really want to impress. Blue braces are great for wearing with a navy suit and white shirt, while dark red braces will complement a light blue shirt.