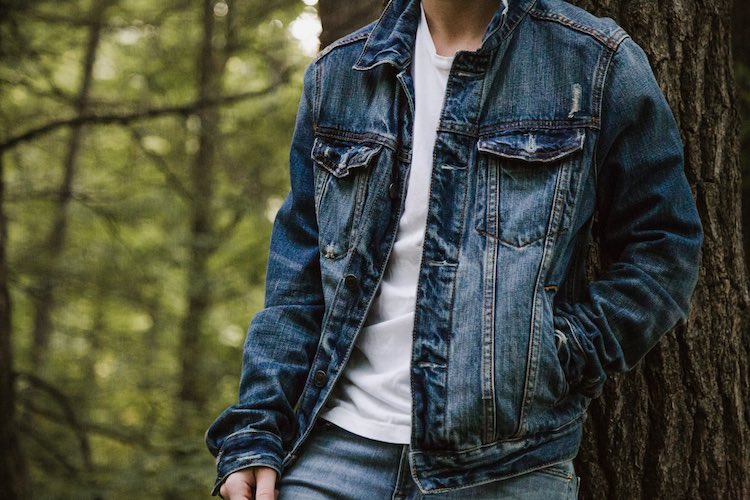 September 19, 2021 |
8 shares
A denim jacket is one of the most versatile items of clothing that you will ever own.
It's light enough to wear on a summer's day, and sturdy enough to layer up in colder weather. What's more, classic blue denim goes with just about any outfit choice, and it never goes out of fashion.
Choose the right jacket and it could last you a lifetime, however many men still have trouble styling their favourite denim jacket day to day.
Read on for our quick guide on how to wear denim jackets in every season...
1. Choose your colours
SHOP THE LOOK: Blue Denim Jackets | Green Chinos | Tommy Jumpers
Blue denim is timeless and versatile, and you can experiment with different shades and tones.
Acid wash is 'in' right now, but be wary of investing in on-trend denim – what looks modern today could look dated next week.
Instead, stick with faded blue or indigo, or go even darker with an inky navy or off-black that will fade naturally over time, giving you that money-can't-buy vintage look.
2. Find your style
SHOP THE LOOK: Collared Denim Jackets | Black Jeans | Converse Trainers
Short, long, collared, ripped, frayed or fitted – there are many more options out there than you might think. Try on a few different styles to figure out which one works best for you.
As a general rule, longline or oversized denim jackets look better on taller guys, while fitted jackets work best for shorter men. Focus on the fit, rather than the material – after all, you can always add a few homemade rips and badges if you want to.
3. Layer up
SHOP THE LOOK: Hoodies | Black Denim Jackets | Stan Smith Trainers
Denim jackets are perfect for layering. Wear a hoodie underneath your jacket for a cosy and laid-back look, or layer over a polo neck and woolly jumper to add some structure to a wintery ensemble.
A fitted denim jacket can also be buttoned up and worn underneath a blazer or pea coat. Or you could just wear it over a plain white tee and a plaid shirt, for an always-stylish weekend outfit.
4. Complement your outfit
SHOP THE LOOK: Tailored Trousers | Brogues | Ted Baker Belt
Your denim jacket should always complement your outfit, so before you buy a new style, it's always good to have an idea of the outfit underneath.
If you're going for a smart chinos-and-shirt look, a fitted indigo jacket would work best. For a beach-themed holiday, a ripped, oversized denim jacket is suitably relaxed.
5. Consider double denim
SHOP THE LOOK: Grey Tees | Loafers | Skagen Watch
It was once a major fashion no-no, but double denim is back with a vengeance. The trick is to mix up your colours so you aren't drowning in blue.
A light blue jacket looks great with black jeans, while an indigo jacket and pale blue chambray shirt are fashion-forward and cool.
However, if you're going to go down the double denim route, it's essential that you keep the rest of the outfit as plain as possible. You can't go wrong with a plain white tee or a grey marl sweater.
6. Don't forget the accessories
SHOP THE LOOK: Chukka Boots | Grey Denim Jackets | Ralph Lauren Scarf
When you're wearing a denim jacket, the chances are that you're enjoying a bit of downtime, so accessorise accordingly.
Sneakers or plimsolls are always appropriate, but you can mix things up with a pair of desert boots or Timberlands.