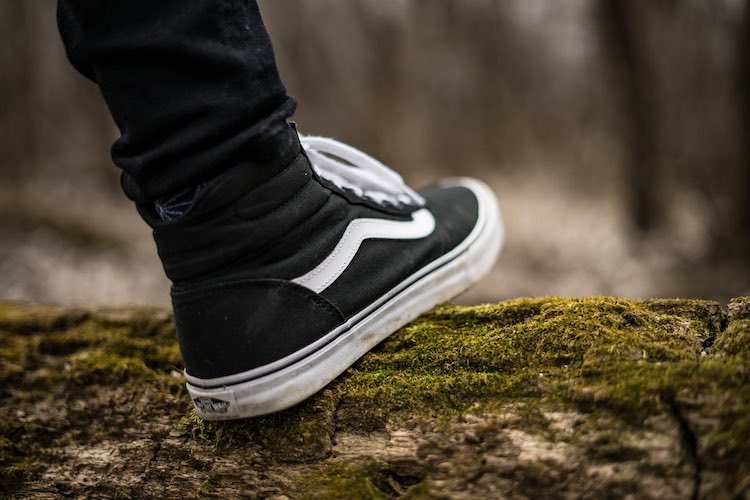 September 4, 2022 |
9 shares
Once reserved purely for the skate park, Vans trainers have become a mainstay fashion essential for downtime styling. Now available in more colours than ever, there's never been more choice for guys to choose from.
Not sure where to start when it comes to styling yours? Read on for our complete guide on what to wear with Vans trainers or use the quick links below to jump straight into each section…
How To Wear Vans With Jeans
The easiest place to start is by pairing your Vans with your favourite jeans. Black or white Vans will give you the most outfit options and should go with most items in your wardrobe, making them our go-to colours for newcomers.
Try wearing black Vans with black skinny jeans and add a denim jacket to work the double denim trend into your new season outfits. Alternatively, add a khaki green or plaid shirt to inject some colour into the outfit and keep the rest of the accessories to a minimum.
How To Wear Vans With Shorts
The canvas construction of most styles of Vans trainers makes them a great summer shoe. The outfit above is easy for anyone to replicate and will look just as good on a city break escape as it will in the beer garden. You can also try denim shorts with Vans to up your street style game, with lighter blue denim being our shade of choice.
What To Wear With Black Vans
You'll find black Vans generally go with most other colours, although tend to work best with light blue denim, greys and black. The black Vans outfit above shows that they're great for dressing down formal trousers and all you need to do is roll up the hems to complete the look.
Black Vans with grey jeans is also a tried and tested winner for smarter occasions, while black joggers will complement hi top Vans as part of your weekend wardrobe.
What To Wear With White Vans
White Vans are the best colour choice if you tend to wear pastels and neutral colours as they'll emphasize the more subtle hues. They look particularly good with chinos as the outfit above demonstrates, helping to freshen up the look for the warmer months.
Just make sure you keep your white men's Vans looking boxfresh and opt for leather over canvas if you're after a quicker clean!
What To Wear With Red Vans
Rapidly becoming one of the most popular colours for men, red Vans trainers can help to elevate basic casual outfits to new heights. They look amazing with blue denim and all shades of grey, injecting an instant colour boost to set you apart from the crowd.
To avoid too much of a contrast, choose maroon Vans over lighter shades of red if you're planning on wearing them with black denim and you won't be disappointed.
What To Wear With Blue Vans
Blue Vans are generally harder to pull off than most other colours as they won't go with as many items in your wardrobe. However, if you're looking to add to your existing collection of Vans, they're a better choice than some of the most obscure colourways.
The men's Vans outfit above is perfect for a summer getaway and will work just as well with beige chino shorts as it will with the white. During the cooler months, try wearing your blue Vans with black denim or mix it up completely by pairing with a bright blue suit.
What To Wear With Checkerboard Vans
One of the most popular colours of choice for street style Instagrammers worldwide, checkerboard Vans make an instant style statement and will up your game in seconds. To really make it work you need to fully embrace the trend by wearing your checkered Vans with skinny jeans and a graphic print streetwear tee.
If you're wanting more of a relaxed casual look, opt for slip-on checkerboard Vans and wear with ankle grazer jeans and a plain white t-shirt. Just add a minimalistic Scandi watch to complete the look.
Our Top Tips On What To Wear With Vans Trainers
Vans are an easy swap for sports trainers and look great paired up with skinny jeans, sweatpants or tailored shorts.


For the most wardrobe options it's best to choose black or white Vans over other colours, with white working especially well in the summer.


Checkerboard Vans are great for streetwear-inspired looks, while red old school Vans are our colour of choice for injecting colour into casual winter outfits.


Vans trainers are generally a casual shoe, however you can wear black Vans with skinny grey trousers (make sure you roll up the hems) and a white shirt for a smarter outfit perfect for date night.