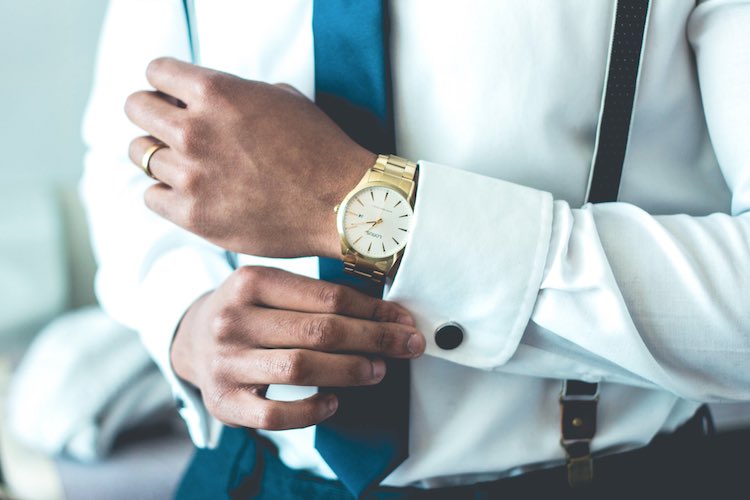 March 23, 2020 |
7 shares
Invented by Albert Thurston way back in 1820 as a solution for holding up high-cut trousers (which weren't practical to wear with a belt), modern braces have been having a resurgence of late.
Once universally worn, popularity for braces started to dwindle in the 1930s as the style of trousers changed and gents switched over to using belts. However, as we've started to experiment with wearing braces with more than just suit trousers, brands have upped their game to offer a modern take on this style staple.
Not sure how to pull of the look? Read on for our complete starter guide on how to wear braces or use the quick links below to jump straight to each section…
The Different Types of Men's Braces
Y-Back Braces
X-Back Braces
Men's braces you'll find in the shops will have either an X or a Y back. This simply refers to the shape the straps create, with Y-back braces having a single strap at the back and X-back braces having two. Premium braces will usually have the straps at the back joined by leather or metal, where as cheaper designs will use a plastic join.
Button Braces
Clip Braces
After choosing what type of back you want on your braces, the next step is picking the best method for attaching them to your trousers. Clip braces have a clip on the end of each strap for attaching over the waistband of your trousers. This makes them great for wearing with jeans or chinos.
Button braces have a loop on each strap with button holes that hook on to buttons on the inside of the trousers. It's important to check that you do actually have buttons on the inside of your trousers first if you don't want to be sewing them in yourself! Generally, more expensive suit trousers will have the buttons included and button braces will be the best option.
How To Wear Braces With Jeans
Wearing braces with jeans isn't the easiest look to pull off, but do it right and you'll stand out from the crowd for all the right reasons. Checkout the outfit tips below on how to wear both blue and black denim jeans with men's braces.
How To Wear Braces With Black Jeans
Black skinny jeans with black braces can create an easy street style look for downtime days. Keep the rest of the outfit monochrome by adding a white tee and trainers, while a black bomber jacket completes the look when the temperature drops. Alternatively, give a nod back to the 80s by wearing wider strap braces with jeans and add a pair of classic Nike high-tops.
How To Wear Braces With Blue Jeans
Coloured braces generally look better with blue jeans than black jeans and can help to elevate your outfits to new heights. Choose a slim-fit denim cut and team up with a crisp white shirt and dark red clip braces for a smart casual outfit. It's also a great opportunity to dust off your work boots by wearing with Red Wings, Dr Martens or suede lace ups when you want to inject some attitude into your outfits.
How To Wear Braces With Suits
If you're wearing braces with a suit, always opt for braces with belt loops for sartorial success. It's best to contrast the braces with the colour of the shirt for maximum effect, with red braces and a navy suit working particularly well if you're prepared to mix up your look. The outfit above is easy to pull off and will work just as well with tan brogues or loafers during the warmer months.
How To Wear Braces With Chinos
During summer, chinos are the perfect middle ground between jeans and suit trousers. Wear yours with a plain tee or shirt and keep the accessories to a minimum. When in doubt, opt for black clip braces, beige chinos, a white t-shirt and dark tassel loafers – just make sure you roll up the hems on your chinos and ditch the socks.
How To Wear Braces At A Wedding
Wearing braces to a wedding is continuing to rise in popularity for both the groom and wedding guests. The outfit above is perfect for a country wedding, showing just how effective shades of blue can be paired up with tan shoes. Grooms can up the style stakes further by pinning the corsage to the left front strap of the braces.
Our Top Tips On How To Wear Braces
Always opt for the original button-style braces to wear with a suit as they look smarter than clip braces. You can either match the braces to the colour of the suit or pick a complementary colour, but avoid matching the braces to your shirt.


Clip-style Y-back braces look great worn with jeans or chinos. If you only plan on buying one set of braces make it black so that you have more wardrobe options.


Skinny strap braces should be your style of choice for street style outfits, while wider braces look better with suits.


Braces were invented to wear instead of a belt, so under no circumstances wear both at the same time.