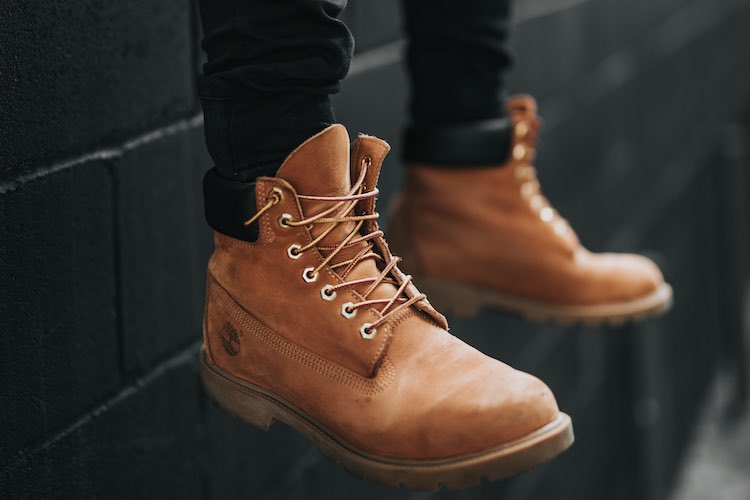 December 17, 2022 |
17 shares
Timberland boots have been a fashion staple for as long as we can remember.
Originally seen on construction sites before making their way into the hip hop scene, they've had a big impact ever since and are now commonplace in mainstream fashion circles.
If Timberlands conjure up thoughts of baggy jeans and a lop sided walk, it's time to think again. Today they're a firm favourite of street style Instagrammers and fashionistas worldwide for one very good reason – they're ridiculously practical.
We've put together this guide to make sure you wear your iconic 6-inch Timberland boots the right way, rather than looking like you've just stepped out of a music video.
Read on to discover our top style tips or use the links below to jump straight into each section:
How To Wear Timberland Boots With Blue Jeans
First up, ditch any thoughts of teaming your Timberlands up with any jeans other than a slim of skinny fit cut.
For a smart casual look that works well both on downtime days and date nights, opt for distressed blue jeans teamed up with knitwear. Complete the look with a fur hood parka when the temperature drops.
How To Wear Timberland Boots With Black Jeans
Light brown Timberlands look surprising good with a completely black outfit, helping to inject just a small amount of colour to keep the outfit interesting.
Look to black leather biker jackets to add texture and layer with a sweater or hoodie for multiple outfit options on downtime days.
How To Wear Timberland Boots With Shorts
Give a subtle nod back to the 90s during summer by pairing your yellow Timberland boots with denim shorts.
This look isn't for everyone but get it right and you'll stand out from the crowd for all the right reasons. Add a basic grey tee to keep the outfit understated and layer with a plaid shirt when the sun goes down.
How To Wear Black Timberland Boots
If you're looking to take your outfit to the smarter end of the spectrum, opt for black Timberland boots.
They work better for less casual occasions than camel or brown alternatives and look great with a pair of slim fit jeans. Complete the look with a blazer or pea coat while keeping accessories to a minimum.
How To Wear Blue Timberland Boots
Blue Timberlands are the best option if you're planning on wearing your boots with chinos. They go really well with beige and can even be worn instead of boaters during summer.
Make sure you avoid wearing black with the rest of the outfit; instead choosing muted colours such as white or lighter shades of blue.
Best Timberland Boots Colour Combinations
How To Look After Timberland Boots
There are now multiple different styles of Timberland boots for men, but our care guide focuses on the original 6-inch style.
Even though they're crafted from leather or suede and are specially treated to ensure they're fully waterproof, there are some easy tips to keep them looking their best. Read on to discover how to care for your Timberlands year after year…
Add an extra layer of protection against water damage by investing in the official Timberland protector. It only costs a few pounds and can be sprayed on both the inside and outside of your boots.


Use a suede brush to remove any dried on dirt and then apply a foam suede cleaner to get rid of any remaining stains.


If you own a pair of leather Timberland boots, you may be able to get away with using a baby wipe to remove any stains rather than investing in specialized products.


Use a boot brush to remove mud from the soles (after it's dried) and use some damp kitchen towel to clean any remaining mud from the sides of the soles.


Give your laces a refresh every 6 months by throwing them in the washing machine. If they get in a really bad state, new laces are available from Timberland for under a fiver.
Our Top Tips On How To Wear Timberlands
Team brown leather Timberland boots with slim fit blue jeans and knitwear for easy smart casual outfit options.


If you're wearing Timberlands with black jeans, keep the rest of the outfit muted with a black jacket or top.


Timberland boots are great for injected some ruggedness into your summer wardrobe. Complete the look with denim shorts and a plaid shirt.


To keep your outfit as smart as possible, opt for black Timberlands and wear with blue denim plus a pea coat or blazer.


Blue Timberlands boots are another smart option and work best with light brown chinos and a white tee or shirt.