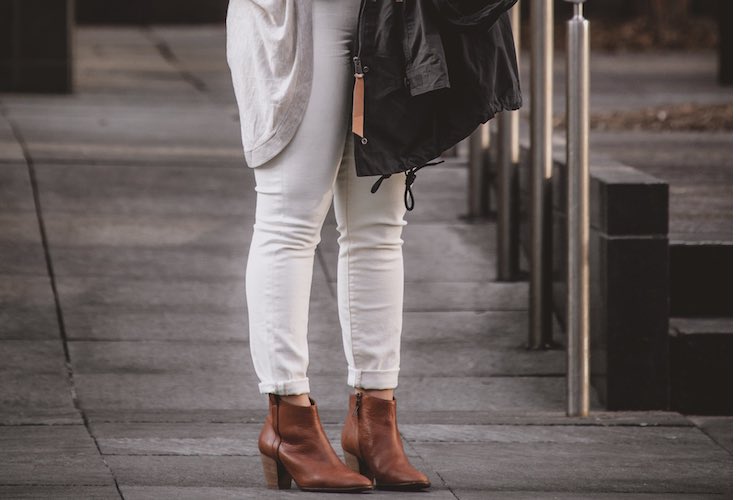 August 19, 2020 |
9 shares
White denim may not be anything new, but this year we've seen the trend explode as women turn from blue to white to mix up their wardrobe options.
Offering a fresher take than darker colours, white denim will keep your outfits crisp while working as the perfect base for neutral ensembles. Read on to discover how to wear white denim all year round, or jump to each section using the quick links below…
How To Wear White Denim Jeans
White jeans are the perfect way to lighten your outfits on dry days during both hot and cold months. As long as you're not at risk of some serious puddle splash, they'll keep your style game on point and are a great way to work the trend into your new season wardrobe. Checkout the white jeans outfit ideas below to see how you should be wearing yours.
How To Wear White Jeans In Summer
Nothing says summer more than fresh white denim. Experiment with neutral colour palettes by teaming a pair of skinny white jeans with blush pink tops and tan accessories for multiple outfit options. Alternatively, go for an all white denim look in summer by opting for a white shirt, tea or cami and add a pair of statement shoes in metallic or animal print for sartorial success.
How To Wear White Jeans In Winter
Wearing white jeans in winter can be dangerous, especially in the UK where weather is at the best of times changeable. However, if you are guaranteed a sunny (albeit it cold) day, white jeans will give you an instant lift from the darker colours of winter. Look to neutral knitwear to style with your denim jeans and layer with a beige jacket for outfits that will transcend from day to play.
How To Wear White Jeans Casually
Unless they're ripped, skinny jeans generally look smarter than loose jeans so the easiest way to pull off a more casual look is to opt for a looser style such as white boyfriend jeans. Then add some colour with a blue denim jacket or Breton top for guaranteed success on downtime days.
How To Wear White Denim Shorts
If you're looking to accentuate your summer tan, go for white denim shorts over blue and you won't be disappointed. They're incredible versatile and will go with most things in your summer wardrobe, but look especially good worn with pale blue tops and tan shoes as the outfit above demonstrates.
How To Wear White Denim Skirts
A white denim skirt is a surefire way to elevate your outfits throughout spring and summer. Work the double denim trend by teaming up with a blue chambray shirt, or look to light neutral colors and pastel pinks to complement your skirt so it remains the star of the show.
How To Wear White Denim Dungarees
A favourite look of celebs across the globe, white denim dungarees outfits are surprisingly easy to pull off if you get the rest of the layering right. During spring and autumn, try wearing your white dungarees over a neutral jumper and add a short jacket if the temperature drops. In summer, swap for grey cap sleeve tees and complete the look with matching trainers or sandals.
How To Wear White Denim Jackets
White denim jackets are often overlooked in favour of blue and black denim, yet this is one change you can make that will instantly transform your wardrobe. During warmer months you can wear your white denim jacket over all your fave dresses and neutral skirts, while in winter it'll look great paired with black denim and Breton tops.
Our Top Tips On Wearing White Denim
Never make the mistake of forgetting that white denim is unforgiving in the rain, so only incorporate it into your outfits when you're guaranteed a day of sunshine.


White denim jeans look best worn with neutral colours for stylish ensembles, but Breton tops and blue denim jackets can be used to inject some colour when needed.


Show off your summer tan with white denim shorts or skirts and team up with light blue tops for instant sartorial success.


White dungarees are perfect for the milder months and should be layered over neutral knitwear or grey t-shirts to keep your style game on point.


A white denim jacket can quickly become one of the hardest working items in your wardrobe. During the warmer months wear it over summer dresses for endless outfit options, while in winter you can wear your white denim jacket with jeans to work the double denim trend.