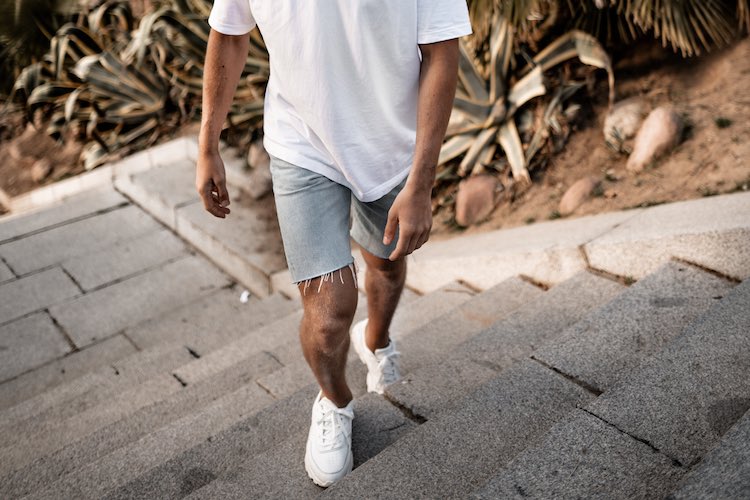 Like it or not, denim shorts are very much back in fashion.
Worn by the likes of David Beckham, Pharrell, and Alexander Skarsgard, they are one of the few items of clothing that look cool and feel cool.
The best thing about wearing denim shorts in the summer is that you can basically just swap them out with your regular jeans, and wear them with your favourite t-shirt, shirt or jacket. But when it comes to your shoes, a bit more thought is required.
Shoes and shorts can be a fashion minefield. So we've done all the hard work for you and sourced the best shoes to wear with denim shorts this summer, no matter where you're going to be.
When you're wearing denim shorts…around town
+ Best shoe style to wear: PLIMSOLLS
SHOP THE LOOK: Canvas Plimsolls | Blue Denim Shorts | Ralph Lauren Polo
Plimsolls and denim shorts are a match made in heaven. Equally comfortable and equally laid back, they make for a great weekend look when you don't want to think too hard about what to wear.
When you're wearing denim shorts…to a garden party
+ Best shoe style to wear: PENNY LOAFERS
SHOP THE LOOK: Penny Loafers | Black Denim Shorts | Paul Smith Shirts
Denim shorts are a brave choice for any smart-casual occasion, but they can work – as long as you accessorise properly. Only clean, fresh shorts will do – nothing too baggy, and nothing too long.
Wear with smart penny loafers (no socks, obvs), a matching belt and a crisp shirt tucked into your waistband. A bit of swagger will make all the difference between smart-casual and fashion genius.
When you're wearing denim shorts…to a BBQ
+ Best shoe style to wear: BOAT SHOES
SHOP THE LOOK: Sebago Boat Shoes | Pink Denim Shorts | Tommy Hilfiger Tees
Coloured denim is a huge trend for summer this year. Whether you go for a dark wash, khaki tones or pastels, a pair of coloured denim shorts will add a fresh spin on the look.
Add a pair of navy boat shoes and you have a go-to combo that works just as well at a mate's BBQ as it does on an office day out.
When you're wearing denim shorts…to a festival
+ Best shoe style to wear: TRAINERS
SHOP THE LOOK: Puma Trainers | Levis Denim Shorts | T-Shirts
Trainers are the magical shoes that somehow manage to look great with just about anything. And unsurprisingly, they are a perfect match for denim shorts of any description.
Box-fresh white trainers look effortlessly cool on the street, but you might want to leave them at home if you're heading to a festival. Instead, throw on some pre-creased trainers and work the 'worn in' look for the rest of the summer.
When you're wearing denim shorts…on holiday
+ Best shoe style to wear: SANDALS
SHOP THE LOOK: Birkenstock Sandals | Grey Denim Shorts | Levi Casual Shirts
Flip flops will always be the go-to choice for shorts of any kind, especially when you're on holiday. But this year, wide-strapped sandals are threatening to overtake them in popularity.
For beach holidays, choose a pair of sandals that are easy to slip on and off (sliders are a great option, and they've been having a bit of a moment lately), and stick to versatile neutral colours like brown leather and black, so you can wear them with just about anything.
Our Top Tips On Choosing The Best Shoes for Denim Shorts
Choose plimsolls to wear with denim shorts on downtime days and complete the look with a polo shirt.


For a smart casual event like a posh garden party, go for dark denim shorts (no rips allowed) and team up with suede penny loafers plus a smart shirt tucked in at the waistband.


Coloured denim shorts are the perfect option for a summer BBQ and look great paired with boat shoes.


For a festival-ready look, trainers should be your style of choice and will go with just about any style of top. Avoid plain box-fresh white trainers though at all costs!


On holiday, ditch your flip flops for a pair of wide-strapped sandals to wear with your denim shorts. Finish the look with a straw hat and cocktail in hand.