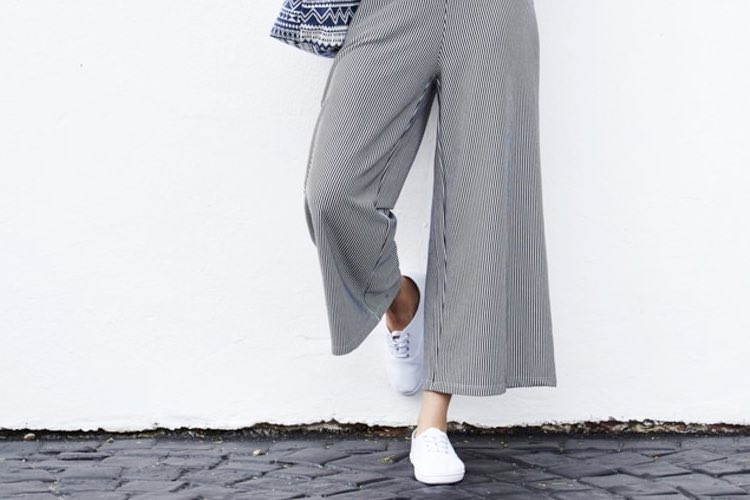 November 29, 2022 |
13 shares
Culottes were one of the big style hits of the summer.
Paired with strappy tank tops, tailored blouses, and fashion-forward crop tops, they were spotted everywhere from the Cap D'Antibes to Rodeo Drive, and everywhere in between.
The flowy, bohemian swish of culottes makes them perfect for swanning around in the sunshine. But that doesn't mean that they deserve to be relegated to the back of the wardrobe when the temperatures drop.
Read on for our tips on how to wear culottes in the winter...
Go short
SHOP THE LOOK: Culottes | Ghillie Heels | Faux Fur Coats
Cropped culottes may seem like a strange choice for the winter, but they are worth considering for one simple reason: damp hemlines.
UK winters are notorious for their icy puddles, and once your hem has been dipped, you just have to accept that you're going to have wet ankles for the rest of the day.
Cropped culottes avoid that problem, and they just so happen to be a fashion statement in their own right. Take your inspiration from Kendall Jenner and Rihanna, and pair your cropped culottes with ghillie shoes, to give the illusion of longer legs.
Alternatively, wear a pair of opaque black tights underneath your culottes, and add your favourite 'look at me' heels, so you can show them off in all their glory.
Play with proportions
SHOP THE LOOK: Knitwear | Ballerina Pumps | Carvela Bags
In warmer weather, culottes need to be paired with something fitted and neat, to counteract the billowy silhouette of the trousers. But in the winter, everyone has permission to cover up under generous layers – and the billowier, the better.
Play with proportions this winter by wearing your culottes with an oversized knit. Add a pair of ballet pumps for the office, or penny loafers for more casual occasions.
Match your prints
SHOP THE LOOK: Ankle Boots | Trench Coats | Printed Culottes
Print-matching is hugely popular among fashion bloggers and style icons such as Olivia Palermo.
By matching your culottes with your top, you are telling the world that you have committed to this look – and that you've probably spent quite a bit of money on it. A strong winter look that is great for formal events.
Choose bold colours
SHOP THE LOOK: Red Culottes | Long Sleeve Tops | Biker Jackets
Winter is a dark and miserable time when any shot of colour is welcome. Luckily, the stores are full of bold prints, and rich jewel tones of amethyst, emerald and ruby.
Ditch the black trousers and make a statement in confident colours that will brighten up the greyest of days.
Wear them with a suit
SHOP THE LOOK: Flatform Shoes | White Shirts | Blazers
Relaxed-fitting suits are set to be a huge trend for the year, and you can get ahead of the fashionistas by swapping out your usual suit trousers for culottes.
Pair a crisp white shirt or cami with smart culottes, flatform shoes, and a boyfriend blazer to channel that androgynous Scandi look that will be everywhere by the end of winter.
Learn to layer
SHOP THE LOOK: Loafers | Mint Velvet Scarf | Turtlenecks
Winter dressing is all about staying warm, and culottes are a gift to layering. By keeping your bottom half light and flowy, you can afford to add bulk to the top half of your outfit, via polo necks, chunky knits, faux fur gilets, woollen coats, and oversized scarves.
On truly freezing days, you could even sneak a pair of long johns under your culottes and no one would ever know!
Our Top Tips on Wearing Culottes in Winter
Cropped culottes are perfect for avoiding any puddle splashes and look great teamed up with ghillie heels and a faux fur jacket.


On casual occasions, look to oversized knitwear to dress down your culottes and complete the look with ballet pumps.


Vibrant prints and coloured culottes are a great way to inject colour into your winter wardrobe and can be worn with matching tops for fashion-forward outfit options throughout the colder months.


Swap your suit trousers for smart culottes to mix up your office wardrobe with some Scandic chic.


On the coldest of winter days, culottes are an absolute gift to layering and can be paired with everything from chuky knitwear to down-filled gilets.