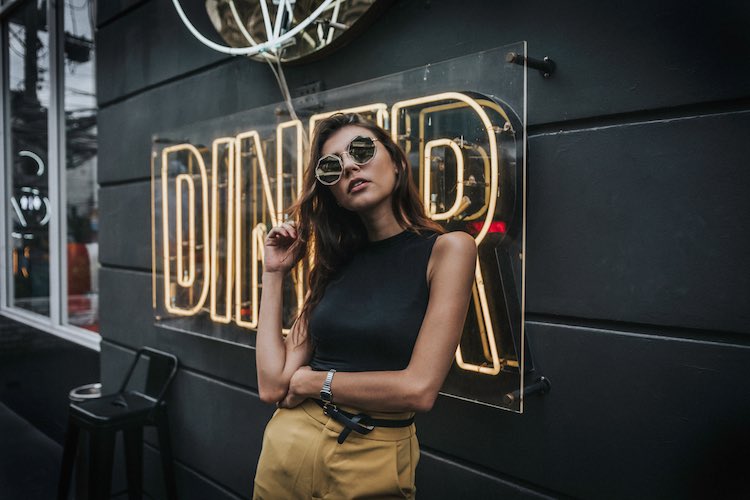 September 16, 2018 |
11 shares
Instagram is, without a doubt, one of the best places to pick up fashion inspiration and elevate your outfits to new heights. There's no better place to start than following the most stylish celebs, showing off their latest looks and offering a glimpse into their celebrity (and often not very celebrity) lifestyles.
From popstars and TV presenters to models and actresses, read on for our picks of the most fashionable female celebrities that should be featuring in your Insta feed this season…
Alexa Chung
TV favourite and model turned fashion designer Alexa Chung manages to make just about everything look stylish in her Instagram posts. From animal print to basic dungarees, expect to see her styling the latest trends like the pro she is. A must follow for everyone with their finger on the pulse on the hottest new trends sweeping the 'gram.
Emma Willis
Emma Willis, presenter of Big Brother and The Voice, has built a reputation for being one of the most stylish women on TV. Her Instagram account gives you behind the scenes shots of all of her best outfits, alongside everyday looks and holiday snaps. Luckily for us all, most posts are all tagged up with all the details of where each piece is from so it's easy to recreate the look.
Victoria Beckham
No introduction needed, Victoria Beckham's Instagram shots are just as stylish as her luxury fashion range. Showcasing her own looks as well as the latest pieces from the VB collection, it's the perfect dose of style inspiration if you love your designer fashion.
Maya Jama
Radio 1 DJ Maya Jama keeps her feed firmly focused on fashion, showing how to work the latest street style trends each season. If you're already following brands like PrettyLittleThing, Boohoo and Missguided, add Maya to the list and you won't be disappointed.
Caroline Flack
Love Island legend Caroline Flack is rapidly becoming just as well known for her style as she is for her TV work. Follow her on Instagram for daily outfit shots from both on and off-screen and you're guaranteed to get ideas on how to mix up your own wardrobe this year.
Rosie Huntington-Whiteley
Rosie HW became a household name after her modeling work for Victoria's Secret, M&S and Burberry and has since launched a successful acting career. Stylish through to the core, her Instagram is bustling with some of the finest photography of her photoshoots alongside candid snaps of her extraordinary life.
Blake Lively
Renowned for her super chic red carpet outfits, American actress Blake Lively has racked up over 23 million Instagram followers with her daily posts. Mostly featuring her fave outfits, you're often treated to a frank caption that we're all really thinking - showing just how down to earth this Hollywood A-lister is.
Gigi Hadid
As you'd expect from a previous International Model of the Year, Gigi Hadid's posts are stunning in every way and leave you with serious style envy. Although most clothing may be out of your budget, you will get ideas from Gigi's outfits and hopefully they'll inspire you to try something new this season.
Kate Bosworth
Kate Bosworth is a style chameleon, looking just as comfortable in a pair of ripped jeans as she does in a chic Dior dress. Many of her outfits are easy to recreate with a bit of imagination and with a couple of posts each day, she's a must to add to your Instagram list.
Kendall Jenner
Reality TV star and now global superstar Kendall Jenner is not short of fans, with close to 100 million Instagram followers at the time of writing. After rising to fame in Keeping Up With The Kardashians, her feed is chockablock of snaps of her party lifestyle and her fierce outfits.
Lily James
Lily James, star of Downton Abbey, shows off her daily looks to her 2 million followers. Ranging from cute swimwear to killer designer shoots, the posts give you real fashion insight into how celebs are styling their latest wares.
Nicole Richie
Nicole Richie's Instagram snaps are a far cry from her days on The Simple Life with Paris Hilton. Now creative director of House of Harlow 1960, her outfits are much more refined and show what's possible when you put the right pieces together. A must follow for all creatives…
Kate Upton
Movie star and cover model for the likes of Elle and Vogue, Kate Upton is one of the most stylish women on the planet. As you'd expect, her Instagram features back-to-back outfit shots across everything from trouser suits to red carpet dresses.
Cara Delevingne
Cara Delevinge is known the world over for her unique looks and now you can see even more by checking out her Instagram feed. This is one girl who knows how to raise the bar when it comes to style choices, which should ultimately help you to also elevate your game to new heights.
Chloe Grace Moretz
With a career dating back to the age of seven, Chloe Grace Moretz is now one of the most loved women on Instagram with a loyal following of over 15 million. With an eclectic sense of style, many of her outfits step away from the norm and are guaranteed to give you the inspiration to try new things with your outfit choices this season.
Ellie Goulding
Ellie Goulding may be known most for her music, but her stylish Instagram feed doesn't disappoint. Showcasing her outfits both on and off stage, it gives an insider look into the world of a solo artist who also has a passion for fashion.
Vanessa Hudgens
Follow Vanessa Hudgens on Instagram and you'll be spoilt with daily snaps of her hottest new looks. Not taking life too seriously, her captions are just as fresh as the shots and show she's just like the rest of us when it comes to the reality of taking selfies.
Mollie King
Former member of girl group The Saturdays and now a BBC Radio 1 presenter, Mollie King immerses herself in the music scene and is one of the most fun celebs to follow on Instagram. From festival outfit inspiration to city break styling, you'll find it all and more on her feed.
Miranda Kerr
Miranda's experience of working with many of the leading high fashion houses across the globe is clear to see from her seriously stylish Instagram account. With playfulness in abundance, it's sure to brighten up your day while giving you a much-needed dose of inspiration.
Nicola Roberts
Since her chart-topping days in Girls Aloud, Nicola Roberts has amassed a loyal following on Instagram. Posting everyday outfit snaps alongside designer ensembles for her attendances at major fashion events, she's become one to watch in the world of UK fashion.
Jourdan Dunn
Considered to be one of this generation's supermodels, Jourdan Dunn is also easily one of the most fashionable celebrities on Instagram. Even her everyday looks are a cut above the rest and offer inspiration in bucket loads.
Rita Ora
Pop sensation Rita Ora is renowned for her colourful outfits on stage and when you see her Instagram feed you'll see they're just as fierce in her day to day life. She knows exactly how to dress for her body shape and isn't afraid to break the fashion rules, whether it's clashing prints or experimenting with different fabrics.
Michelle Keegan
Former soap queen and now star of Our Girl, Michelle Keegan is renowned for her sense of style. Knowing exactly how to inject attitude into an outfit when it needs it, her Instagram account should align with a lot of girls' style goals and is a must follow for everyday inspo.
Millie Mackintosh
A fan favourite on Made In Chelsea for always looking fabulous, Millie Mackintosh is now one of the most stylish female celebs on Instagram. Her outfit choices are inspired and will give you all the tips on what to wear to dress like one of the 'IT' girls.
Fearne Cotton
Fearne Cotton has been gracing our TV screens since the age of 15 with her fab outfits fusing tomboy looks with a bohemian feel. It's a unique style that you'll struggle to find elsewhere, making her a rare find who is definitely worth following if boho is your thing.
Dua Lipa
Relative newcomer Dua Lipa has been making her mark on the music scene and her daily outfits are just as fresh. With over 18 million of us swooning over her style on Instagram, it's undoubtedly one of the most covetable accounts of the moment to follow.
Anya Taylor Joy
A former model at the renowned Storm agency before embarking on her acting career, Anya Taylor Joy is a rising fashion star being dressed by the likes of Gucci on the red carpet. Her Insta feed is equally stylish, with hundreds of selfie snaps showing Anya in a myriad of outfits.
Anne Marie
Anne-Marie is establishing herself as a household name with huge collaborations with the likes of Clean Badit and Marshmello. Her outfits are more often than not bursting with colour and she's quickly becoming one of our new style faves to follow on Instagram.
Justine Skye
American singer, actress and model Justine Skye has been making waves across the pond and from we've got no doubt her success will be emulated worldwide. Her Insta account is deliciously sassy, featuring trend-setting outfits that are guaranteed to blow your mind.
Daisy Lowe
English fashion model and female style icon Daisy Lowe has graced runways the world over for the likes of Chanel and Henry Holland. Her candid Instagram posts give a beautiful peek into the life of a fashion model, from magazine shoots to her everyday styling choices.
Gemma Chan
A regular on our TV screens, Gemma Chan has amazing style that just about all women will appreciate. Elegant to her core, her looks are often impeccable and her love for beautiful dresses is clear for all to see. Another to immediately add to your list of fashionable celebrities to follow this month.