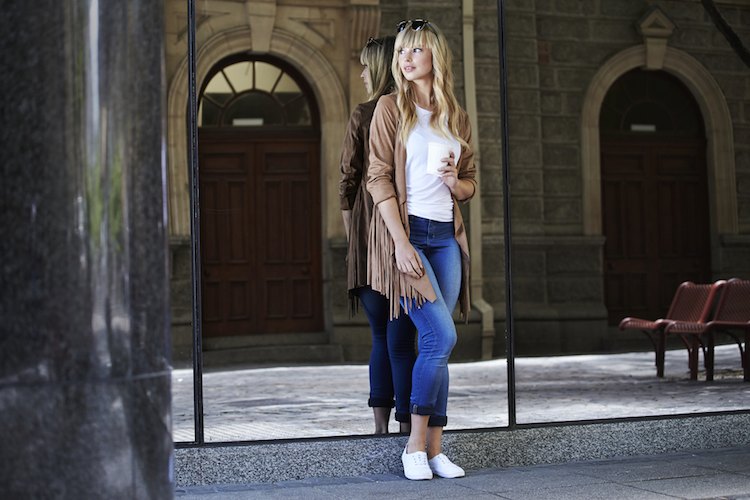 April 26, 2022 |
7 shares
The 90s revival is in full swing, so it's no surprise that the must-have spring fashion item is the cami top. Camisoles were a staple of the late 90s and early 00s, when they were typically worn with bootcut jeans and a cardigan.
But the modern version of the cami is much more elegant, and surprisingly versatile. In fact, style icons such as Kendall Jenner, Olivia Palermo and Gigi Hadid have made the cami a staple in their day-to-day wardrobe.
This affordable item is all you need to update your spring wardrobe, so read on for our tips on how to wear cami tops...
1. Wearing a cami top with a trouser suit
SHOP THE LOOK: Black Camis | Women's Suits | Court Shoes
A cami is a great way to bring a feminine touch to a well-cut trouser suit, and it's also one of the only acceptable ways to wear a camisole in the office.
Steer away from lacy or see-through fabrics here, and instead add interest with an unusual choice of colour – khaki green and rich burgundy are very on trend at the moment, and look great with neutral colours such as black, white and grey.
Remember, spring weather is unpredictable so make sure you choose a cami top that you're comfortable wearing sans jacket – that means nothing too low cut and no visible bra straps.
2. Wearing a cami top with jeans
SHOP THE LOOK: White Camis | Boyfriend Jeans | Blazers
To update the classic 'cami and jeans' look, just follow two simple rules: tuck in your camisole and wear heels. Camis are versatile enough to be worn with just about any jeans, but they look best when paired with looser styles such as boyfriend jeans or Mom jeans (rips are optional).
The slouchiness of the jeans toughens up the lingerie vibe of the cami, and a great pair of heels brings the whole outfit together. Add a fitted blazer for a more work-appropriate look.
3. Wearing a cami under a sheer top
SHOP THE LOOK: Sheer Blouses | Skinny Jeans | Ankle Boots
Sheer, long-sleeved tops are all over the high street at the moment, and they are made to be worn with a simple cami underneath.
The sheer fabric and delicate spaghetti straps are an elegant combination, and make for a sophisticated evening look. Stick to one colour (black is an obvious choice) and let the layers really stand out.
4. Wearing a cami top with a skirt & boots
SHOP THE LOOK: A-Line Skirts | Heeled Ankle Boots
This has basically become the party uniform for the supermodel elite. Kendall, Gigi and Kate Moss have all been spotted wearing some variation on the cami, skirt and boots combo, and it's easy to copy the look.
Go for over-the knee boots with a mini skirt, or ankle boots with an A-line skirt, and make sure you tuck your cami into the waistband for a modern silhouette.
5. Wearing a cami top with a choker
SHOP THE LOOK: Chokers | High Waisted Jeans | High Heels
At some point over the past year, chokers became cool again. And while a cami and choker combo may seem like 90s overkill, it somehow still works.
Just choose a choker that's the same colour as your cami, and keep the rest of your outfit simple – a pair of jeans or a skirt is all you need. And heels, of course.
Our Top Tips On How To Wear Cami Tops In Spring
A cami is a great way to inject some femininity into a trouser suit during the warmer months. Stay clear of lacy fabrics and look to burgundy, black white or grey, which all work well with a grey springtime suit.


If you're wearing a cami top with jeans, tuck it in at the waist for a streamlined silhouette and complete the look with killer heels.


Camis look great under a sheer top for a sophisticated evening outfit. Stick to one colour throughout the outfit to showcase the layers at their best.


For a fashion-forward outfit, follow the supermodel elite and team a brightly coloured cami up with an A-line skirt and ankle boots. Accessorize with a leather bucket bag.


If you want to wear a choker with your cami, make sure it's the same colour as the top and keep the rest of the outfit simple.