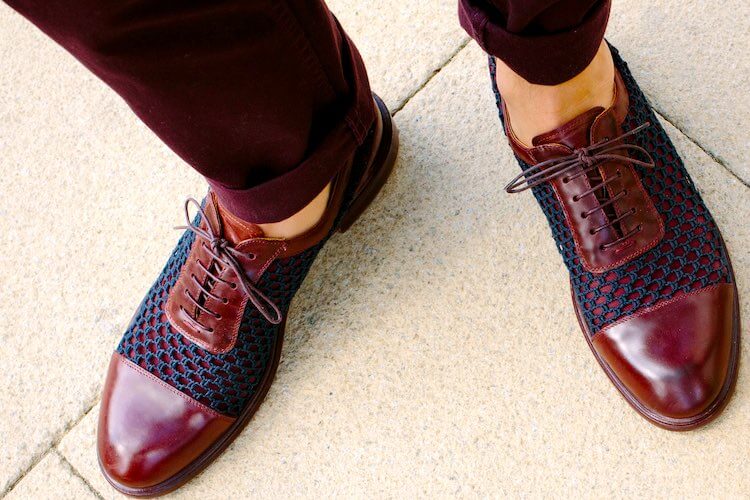 April 8, 2023 |
13 shares
A slightly darker shade of burgundy, oxblood shoes offer a great alternative to tan, brown and black for mixing up your outfits. They've surged in popularity recently and with more brands jumping on the trend, there's never been a better choice of men's oxblood shoes to shop across. This means you can now wear different styles all year round, whether it's boots in the winter or oxblood loafers during the warmer months.
Read on below for our top tips on how to wear oxblood shoes whatever the occasion, including what colours go best with oxblood shoes. As there's not a huge amount of difference between the hues, we've also included outfit ideas for men's burgundy shoes…
Oxblood/Burgundy Shoes Outfits for Men
Oxblood footwear now comes in all shapes and sizes and you shouldn't be put off by the reddish tinge. The colour is incredibly versatile and looks particularly good paired up with grey and neutral colours, whilst also making your standard jeans and t-shirt combo more interesting. Whether you're after tips on how to wear oxblood shoes to the office or on your next escape, we've got you covered with 5 great outfit ideas.
How To Style Oxblood Shoes with a Suit
To really make your shoes shine (no pun intended), team oxblood shoes with a grey or navy suit and opt for a crisp white shirt. You can use similar hues in your accessories (think oxblood tie or pocket square) to pull the look together for more formal occasions like weddings.
How To Style Oxblood Shoes with Jeans
If you're planning to wear oxblood shoes with jeans you're in for a treat, as just about any denim colour will work. Our firm favourites for downtime days are distressed black or grey jeans as they will really help the oxblood or burgundy colour to pop. Alternatively, opt for mid-blue jeans for a smart-casual look and keep the rest of the outfit simple – a black tee and quilted jacket is all you need.
How To Style Oxblood Boots
Oxblood boots offer a more heritage feel than standard brown or tan hues, making them perfect to pair with other wardrobe classics like chinos. Wear yours with other wardrobe neutrals, such as a grey overshirt or khaki gilet. Add some interesting accessories to complete the look.
How To Style Burgundy Loafers
Elevate your summer wardrobe by investing in some oxblood or burgundy loafers and we guarantee you won't be disappointed. They work amazingly well with other holiday staples (think navy shorts, light shirts) and you can also wear them to the office during the warmer months.
How To Style Burgundy Trainers
Burgundy trainers have really started to take off, with Nike, Converse and Nike now offering their own take on the trend. We love using them to work a two-tone theme in an outfit, which can be as simple as wearing with a matching sweater and charcoal joggers. It's an easy look to recreate and the addition of a gilet gives a great layering option during the colder months.
Our top tips on how to wear men's oxblood shoes
Embrace the red hue and wear contrasting trousers to really make them stand out. For oxblood shoes this is best achieved by wearing light colours, such as light grey, blue or beige. For lighter burgundy shoes this is best achieved by wearing darker colours like navy or black.
For smarter occasions, wear oxblood shoes with a grey or navy suit (or navy shorts in the summer) and complete the look with a white shirt and complementary accessories.
On off-duty days, opt for burgundy trainers or boots and team yours up with your favourite chinos and joggers for sartorial success.
When you want to impress (think date night), look to oxblood Derby shoes teamed up with slim fit jeans and an ecru sweater.
Your questions answered on oxblood/burgundy shoes
Q. What colour is oxblood leather?
A. Traditionally oxblood leather is a darker shade of burgundy red. It often has a brownish tinge compared to a purplish tinge with lighter burgundy. It's likely you'll find that there's not a huge amount of difference with oxblood vs burgundy because lots of brands now use the names interchangeably.
Q. What colour clothes go with burgundy shoes?
A. Most colours go with oxblood and burgundy shoes, but it's best to avoid matching trousers. The best colour trousers to wear with burgundy shoes are blue, black, grey and beige.
Q. Do burgundy shoes go with black?
A. Burgundy shoes go well with black trousers but depending on the shade of burgundy you may want to opt for a washed black or charcoal tone. Generally, the darker the shade of burgundy or oxblood, the lighter the shade of trousers so there's enough contrast.