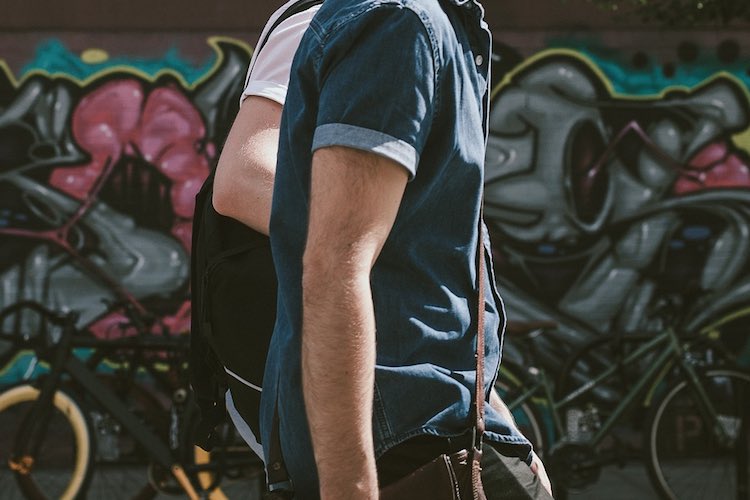 The right items can make or break your summer wardrobe. Pick the wrong blazer and you'll be melting in the heat, while that vest top is probably best left in the gym.
By being clever with what you buy, it's easy to achieve a range of summer looks for both work and play with just a few items. Read on for the 20 things that should be in your summer wardrobe this year and beyond…
Summer Tailoring Essentials
Summer is the time to put your black suit to the back of the wardrobe and wear lighter colours such as grey, beige or light blue. Grey suit trousers are incredibly versatile and also look less formal than black when you want to dress the outfit down.
Give your blazer (and comfort) an upgrade for the warmer months by investing in lighter natural fabrics such as linen, cotton and even wool. They'll make a huge difference to the common sweaty back problem we all suffer from in summer and can easily be packed away ready for when the heat returns as autumn draws closer.
Suggested Style Guide: The Complete Guide To Summer Suits
Oxford Shirts
The trusty Oxford shirt has been a style staple for decades. Made from a slightly thicker fabric than formal shirts, they look great both in and out of the office so if you're going to invest in a new smart shirt, make it an Oxford.
A white Oxford shirt will go with everything from suits to chino shorts (just roll the sleeves up), while light blue will inject a bit of colour into your summer outfits and has a summery vibe.
Suggested Style Guide: How To Measure For A Shirt
Smart Footwear
Switch your lace-up Oxfords or brogues for slip-on loafers in summer. They're the perfect style for wearing without socks so you can get a bit of extra breeze to your feet on those really hot days.
Chukka boots are the most versatile boot style to wear in warmer weather and look surprisingly good with shorts and suits alike, making them great for summer work outfits. Opt for brown leather over black, like the chukkas shown above.
Suggested Style Guides: How To Wear Chukkas In Summer / How To Wear Men's Loafers
Lightweight Jackets
It can be hard to know where to start when it comes to jackets in summer. You want something warm enough to stave off a breeze, yet light enough to stuff in your bag. A denim jacket will see you through all casual occasions and will go with almost everything in your casual wardrobe.
For work or smart occasions, look to a stone or beige bomber jacket in luxe fabric such as suede. It'll go just as well with your grey suit trousers as it will with blue chinos and denim.
Suggested Style Guides: How To Wear Bomber Jackets / How To Wear Denim Jackets
Shorts
Chino shorts are often perceived as a preppy choice for summer, but they are actually the easiest style to wear both on and off-duty. Pair with a white Oxford shirt and loafers for work and then roll the hems up and wear with a polo shirt on holiday.
The second pair of shorts that are an absolute men's summer essential if you're heading away to sunnier climes are swim shorts. Unless you plan on wearing them for all occasions for the duration of your break, you can afford to be more adventurous with the colour as it's likely you'll only be wearing them with a tee. Geometric prints are having a moment and the brighter the better – just make sure you choose a pair of swim shorts that fall above the knee.
Suggested Style Guide: How To Wear Chino Shorts
Summer Trousers
Apart from any suit trousers you may need for work, the only others you'll need in summer are one pair of jeans and a pair of chinos. Choose a light blue denim wash to keep the rest of the outfit light and if you do prefer a darker blue, go for blue chinos instead.
Beige chinos work for both men's casual summer fashion outfits paired with a polo shirt, and smarter outfits when worn with an Oxford shirt plus loafers.
Suggested Style Guide: How To Wear Chinos
Casual SUMMER Shoes
For maximum wardrobe options, stay away from brightly coloured trainers and invest a really good pair of plain white trainers. Not only will they be the hardest working casual shoes you wear all summer, they're also perfect for dressing down a suit.
If you're going to invest in a second pair of shoes for off-duty days, make it a pair of leather boaters. These shoes are built to withstand a bit of water on deck so should last this summer and many more to come.
Casual Tops
A denim shirt is the perfect option for casual occasions throughout summer. Wear with chinos and boat shoes for holiday date nights or work the double denim trend by pairing it with jeans. You only need to invest in one jumper for layering when the temperature drops, with grey being the most versatile colour to complement other items in your summer wardrobe.
Suggest Style Guide: How To Wear A Denim Shirt
It pays to invest in a quality white t-shirt as you can wear it with everything from jeans to chinos and it's less likely to become misshapen after a few washes. It's also worth adding a polo shirt to your summer wardrobe so you've got something that bit smarter when a t-shirt is too casual. Polos are a timeless classic and again it pays to invest in quality if you plan on wearing it past the summer.
Suggested Style Guide: How To Wear Polo Shirts
Summer Accessories
Sunglasses are a given for summer, yet many of us fall into the trap of picking up a pair of sunglasses that are no longer in style and it dates the rest of the outfit. Instead, always opt for classic styles like semi-rimless, aviators or wayfarers if you're spending more than £40.
You can also ditch the laptop bag for a smart rucksack like the Herschel Supply Co backpack featured above. It's a great commuter bag and will come in just as handy as a carry-on bag when you jet off on holiday.
Suggested Style Guide: Picking The Best Sunglasses For Your Face Shape
Recap: Your Men's Wardrobe Essentials Checklist
Summer Blazer
Blue/Grey Summer Suit
White Oxford Shirt
Light Blue Oxford Shirt
Chukka Boots
Penny Loafers
Denim Jacket
Bomber Jacket
Chino Shorts
Swim Shorts
Light Blue Jeans
Navy/Beige Chinos
Premium White Trainers
Boat Shoes
Denim Shirt
Grey Sweater
Polo Shirt
Premium White T-Shirt
Timeless Sunglasses
Herschel Backpack