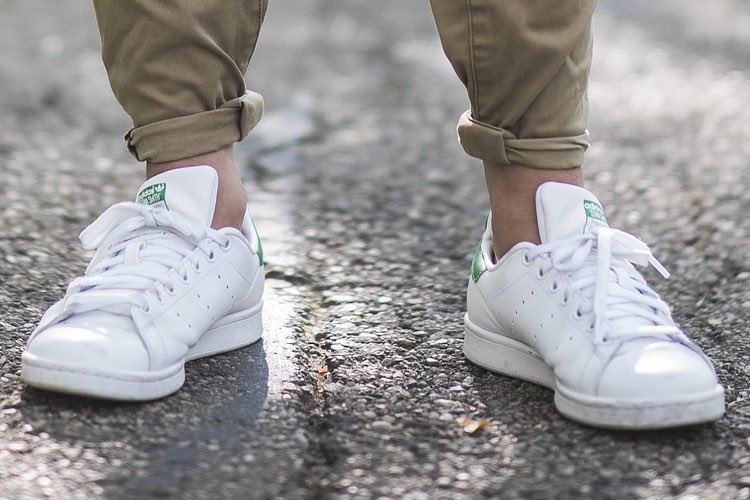 April 22, 2023 |
20 shares
Whether you're looking to invest in a new pair of iconic Adidas trainers or need some advice on how to style your existing Originals, we've got your back.
Our guide covers everything you need to know about how to wear Adidas Originals - broken down by the most iconic styles of trainers from the last 50 years.
Read on for the full style guide or use the links below to jump directly into each section:
How To Wear Adidas Gazelle Trainers
SHOP ADIDAS GAZELLE
Launched by Adidas in 1968, the Gazelle has become a style icon and is one of the most popular across the range. Renowned for its sleek silhouette, the design has hardly changed over the last 50 years and continues to stand among the greats.
Now available in a huge range of colourways and fabric options, Adidas Gazelle trainers are the perfect shoe for downtime days.
Wearing Adidas Gazelle With Jeans
As the Gazelle is a casual trainer shoe it works well with distressed denim. Keep the outfit simple with faded jeans, a light tee and cream or white Gazelle trainers.
Wearing Adidas Gazelle With Shorts
In warmer months, team your Adidas Gazelles with casual jersey shorts and match your top to the colour of the trainers. It's a great look for wearing around the house, to a mate's BBQ or a quick dash to the shops.
Best Colour for Adidas Gazelle Trainers
BLUE/WHITE
+ Wear with: blue denim, chinos, grey shorts
GREY/WHITE
+ Wear with: black denim, joggers, navy shorts
RED/WHITE
+ Wear with: light blue denim, grey jersey shorts
ALL BLACK
+ Wear with: black/grey denim, black shorts
How To Wear Adidas Stan Smith Trainers
SHOP ADIDAS STAN SMITH
Adidas Stan Smiths are one of the most instantly recognizable Originals styles by the German brand.
Named after the legendary tennis player himself (we're confident he must have made an absolute MINT from the deal), it's one of just a few styles not to feature the classic three stripes. Instead, three rows of perforations are used to give a nod to the famous Adidas branding.
The simplicity of the design makes it the perfect style for smart-casual outfits as Stan Smiths go with just about everything.
Wearing Adidas Stan Smith With Jeans
Combine two of the biggest trends by teaming your Stan Smiths with a camel overcoat - then just add a pair of skinny jeans to complete the look. Black denim works best if you're aiming for a smart outfit and avoid jeans with any rips or intentional distressing.
Wearing Adidas Stan Smith With Shorts
Step up your style game during summer by wearing Stan Smith trainers with tailored chino shorts and the whitest shirt you can find. It's a timeless look that works for any occasion when you're out to impress.
Best Colour for Adidas Stan Smith trainers
WHITE/GREEN TRIM
+ Wear with: dark denim, beige chino shorts
WHITE/BLUE TRIM
+ Wear with: light blue denim, navy shorts
How To Wear Adidas Superstar Trainers
SHOP ADIDAS SUPERSTAR
Originally released in 1969 as a low-top basketball shoe, the Adidas Superstar quickly made its way on to the streets and has been loved ever since.
Famed for the unique rubber shell toe, Superstars inject a slightly retro look into any outfit with their iconic design. There's now also the Superstar 2, featuring subtle design changes to the heel and upper for a contemporary take on this Adidas classic.
Wearing Adidas Superstar With Jeans
The retro design of Superstars lends itself to a retro trend. Get the most out of yours by teaming them with black jeans and a black denim jacket to work the double denim trend. Alternatively, lose the jacket and pair them with your favourite pair of slim fit jeans for multiple outfit options.
Wearing Adidas Superstar With Shorts
Adidas Superstars are the perfect addition to your summer wardrobe and the rubber shell toe makes them easy to keep clean. Team with faded denim shorts for a nod back to the 80s and complete the look with a light-coloured muscle fit tee.
Best Colour for Adidas Superstar Trainers
WHITE/BLACK
+ Wear with: dark grey/black denim, tan shorts
NAVY/BLUE
+ Wear with: light grey/blue denim, grey/printed shorts
CAMOUFLAGE
+ Wear with: black/blue denim, plain shorts
GREY/BLUE
+ Wear with: blue denim, navy chinos, red shorts
How To Wear Adidas Tubular Trainers
SHOP ADIDAS TUBULAR
Adidas Tubular trainers are the first style in our guide that are available in both a low-top and hi-top design. Both variations look more modern than Gazelles, Stan Smiths and Superstars and work well within the athleisure trend. If you're a fan of streetwear, a pair of Tubulars should be at the top of your wishlist.
Wearing Adidas Tubular With Jeans
Tubular trainers work best with slim-fit or skinny jeans so you can show off sportswear on the street. Work the longline trend into the outfit with a longline tee worn under a hoodie.
Wearing Adidas Tubular With Shorts
If you're wearing Adidas Tubulars with shorts, opt for a jersey fabric and matching hoodie to take your streetwear look to new heights. Having just one consistent colour throughout the outfit will allow your Tubulars to take centre stage.
Best Colour for Adidas Tubular Trainers
LIGHT BROWN
+ Wear with: black denim, tan/navy shorts
GREY
+ Wear with: light/dark grey denim, jersey shorts
BURGUNDY RED
+ Wear with: light grey denim, tan/grey shorts
WHITE
+ Wear with: dark blue denim, black jersey shorts
How To Wear Adidas NMD Trainers
SHOP ADIDAS NMD
The side profile of the Adidas NMD is the most striking across the entire Originals trainer collection. Fusing traditional design concepts with the latest technology, they feel just as amazing to wear as they look on the outside.
Released in limited numbers and at a higher price point than the majority of other Adidas styles, NMDs have caught the attention of sneakerheads worldwide and are THE trainers to be seen in.
Wearing Adidas NMD With Jeans
If you've got yourself a pair of Adidas NMDs, let them steal the show by keeping your outfit as minimal as possible. A pair of dark grey jeans and a plain white tee is all you need for a trendsetting streetwear look.
Wearing Adidas NMD With Shorts
The variety of styles of men's NMD trainers allows you to mix up your outfits in the summer to suit the occasion. Look to primary colours such as red and blue for a heritage look and team with a classic Levi's tee and blue denim shorts.
Best Colour for Adidas NMD Trainers
GREY
+ Wear with: charcoal denim, tan shorts
SILVER/ORANGE
+ Wear with: blue denim, dark blue shorts
CAMOUFLAGE
+ Wear with: grey denim, plain jersey shorts
WHITE
+ Wear with: black/blue denim, dark grey shorts
How To Wear Adidas EQT Trainers
SHOP ADIDAS EQT
The Adidas EQT is another icon to add to your street style lineup. With modern features in abundance, prepare to spoil your feet with compression moulded midsoles and knitted uppers for premium comfort all day long.
Giving a subtle design nod to the 90s, these are the shoes Marty McFly would have owned if he'd got the chance.
Wearing Adidas EQT With Jeans
The futuristic look of Adidas EQTs while retaining retro detailing makes them perfect for street style outfits. Team yours with grey or black denim and look to pastel shades to inject subtle colour into your outfit.
Wearing Adidas EQT With Shorts
When you're wearing EQT trainers with shorts there's only one way to go – big. Get fully equipped with matching shorts and a hoodie from the Adidas EQT range for the ultimate street style look.
Best Colour for Adidas EQT Trainers
BLACK/WHITE
+ Wear with: black denim, black/grey shorts
KHAKI GREEN
+ Wear with: blue denim, royal blue shorts
WHITE
+ Wear with: white/grey denim, blue/beige shorts
RED/CREAM
+ Wear with: light grey denim, dark grey shorts
How to Look After Adidas Trainers
Having a pair of Adidas Originals is a great asset for your wardrobe, but can quickly look like something just pulled out of your high school gym kit if you don't keep them looking like new.
Most styles can be kept clean by wiping with a damp cloth on a regular basis, however when it comes to suede Adidas it's a whole other story. Below are some tips on tips on looking after your trainers, or you can skip down further for info on how to take care of suede.
Use a fabric protector – immediately after unboxing your trainers, use a special fabric protector spray (like Scotchgard) to help prevent stains and any water damage.


Wipe them regularly – if you're wearing your Adidas daily, give them a good wipe every week using a damp sponge. Use kitchen towel to dry them off. In the winter you may need to wipe them every 2 to 3 days worth of use to get rid of the muck and prevent discolouring.


Always dry them naturally – on days when they get sodden, avoid leaving them next to the radiator and instead stuff them full of kitchen towel and allow to dry away from a direct heat source. This will prevent them from losing shape and drying the leather out too quickly.


Only use the washing machine for laces – it may be a tempting quick clean, but you're likely to turn the white soles yellow over time if you stick your Adidas trainers in the washing machine. Instead, remove the laces and throw them in the machine when they're looking worse for wear. Never underestimate how clean your refreshed laces will make your trainers look.


Use baking soda to deodorize – if your trainers have got to the point you can smell them when you walk through the door, make sure you remove the smell rather than just trying to cover it up with Febreeze. By using baking soda (or even teabags) left in overnight, the odours will be absorbed and your Originals should smell fresh the following morning.


Invest in a magic eraser – the Flash magic eraser works wonders on rubber so is great for the soles. It's especially worthwhile if you've got a pair of Adidas Superstars as you can also use it to clean the rubber shell toe.
Looking After Suede Adidas Trainers
If you already own a pair Adidas trainers with suede uppers (such as most Gazelle styles), you'll know keeping them clean isn't as easy as leather.
Suede notoriously marks when it gets wet and often trying to clean them results in even more of a mess. If you haven't worn them yet, the best thing you can do is to spray them immediately with a fabric protector to stave off water damage.
If it's too late for that, there are a few other things you can do to keep your suede Adidas looking their best:
Invest in a suede brush – you can use this to brush dirt off (without rubbing it with water).


Blot the stain immediately – if your trainers get a few water marks, use kitchen towel to absorb as much water as possible before it stains.


Apply white vinegar to dry stains – do this after brushing off as much dirt as possible and only apply a small amount at a time using some kitchen towel.


Use talc for oil stains – the talcum powder should absorb some of the grease if left overnight and you can brush off the following day.


Invest in a suede eraser – if all else fails, try a suede eraser (or pencil eraser if you're feeling brave) to remove the stain. It's worth testing on an inconspicuous area first!
We've put together a separate guide on cleaning suede that you can check out for further help and detailed cleaning tips.
Our Top Tips On Wearing Adidas Trainers
Gazelle trainers look great with distressed denim or jersey shorts. They're a casual shoe so keep the rest of the outfit casual.


Stan Smiths are perfect for dressing down a smart outfit. Team up with skinny jeans and an overcoat in winter, or with chino shorts during summer.


Make the most of the retro feel of Adidas Superstars by wearing with double denim. Alternatively, look to faded denim and pastel tees for easy outfits on downtime days.


Tubular trainers work best with street wear, so wear with a hoodie and a longline tee over jeans. To work the trend in the summer, wear with jersey fabrics in a complementary colour.


Take your street style to new heights with a pair of Adidas NMDs and pair with distressed denim and logo tees.


For futuristic footwear, look to the Adidas EQT range and team up with black denim and other sportswear from the EQT collection.