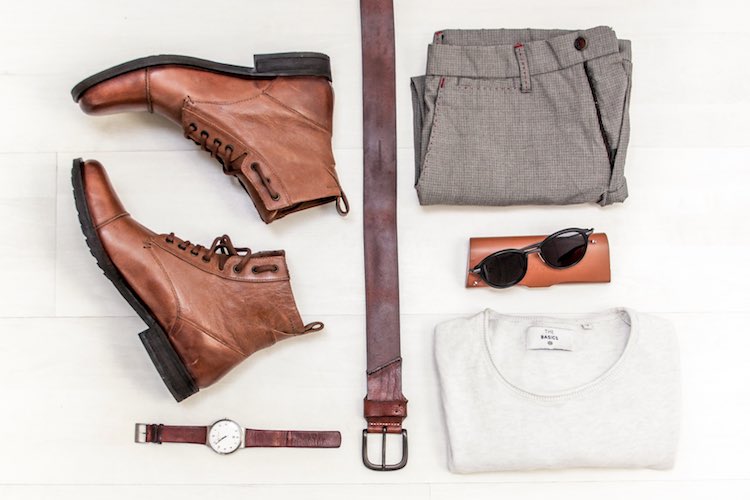 December 27, 2020 |
9 shares
The New Year has a way of forcing us to take a long hard look at our lives and make a few substantial changes.
Some of us embark on short-lived fitness plans, while others throw themselves into Dry January. But for fashion conscious guys, the New Year presents an opportunity to focus on more valuable, long-term goals.
By setting a few New Year style resolutions, you can update your look, save money and treat yourself to a burst of self-confidence that will last all year. So if you're guilty of wearing the same shirt and jeans combo on rotation, this guide is for you.
Read on for top tips on how to take control of your look this year...
1. I will... invest in basics
The plain white t-shirt, the wear-anywhere chinos, and the perfect pair of blue jeans – these are the wardrobe staples that you can wear again and again in multiple combinations.
Sometimes referred to as the 'capsule wardrobe', these fashion basics are the foundation for any wardrobe. Focus on plain colours, natural fabrics and comfortable fits; then wear them forever.
2. I will... dress for my body shape
Bespoke tailoring can get very expensive very quickly but if you can afford it, it's worth the investment. Once you start dressing for your body shape, you will look taller, slimmer, and bulkier in all the right places.
If you don't have a personal tailor on standby, you can get a similar effect by making clever choices when it comes to trouser length, waistband placement, and chest measurements.
Spend some time learning about the most flattering styles for your body shape, and ditch anything that doesn't do you any favours.
3. I will... think about cost per wear
It is undeniably tempting to fill your wardrobe with cheap threads, but these clothes are cheap for a reason – they have either been poorly stitched together or they are a minute away from going out of style.
Instead, invest in higher quality items which won't go out of fashion quickly. You'll get so much more wear out of them that, over the long term, you will drive down their cost per wear.
4. I will... use accessories wisely
Most men have yet to discover the transformative power of good accessories. The right pocket square or tie can lift an otherwise ordinary suit, while a statement scarf and hat combo will elevate your everyday winter uniform.
Build up a collection of eye-catching yet wearable accessories, and use them to update old clothes.
5. I will... plan my wardrobe in advance
Once you have a better sense of your own personal style and the clothes that suit you, you can start planning your wardrobe in advance.
Do you look amazing in tweed? Buy it in the summertime, when demand is low and the prices are too. Love brightly coloured board shorts? Wait for the end-of-summer sales and then stock up. You'll save money over the course of the year while staying true to yourself.
6. I will... make do and mend
It's easy to just throw away and replace ripped clothing or worn-out shoes, but it's also incredibly wasteful.
Teach yourself to sew minor rips and buttons, or to remove scuff marks from suede. For the sake of a few minutes of time, you can extend the life of your favourite items of clothing for another few months.
7. I will... take stock of my wardrobe
Don't wait until the springtime to have a wardrobe clear-out. Make it a New Year's resolution to take a regular stock check of your wardrobe.
Every few months, take a good look at your clothes and get rid of anything that hasn't been worn in more than six months. You will end up with a smaller collection of clothes that you genuinely love.